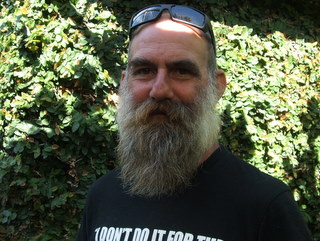 Have a quick look on Google earth and you'll see that Cobar is a bloody long way from Sydney. So in his infinite wisdom the booking agent organised a gig out west the night before we were supposed to play Cobar golf club. Can't remember which pub but it was out Windsor way, I think it was The Tropicana hotel at Wilberforce. Great, that meant driving overnight straight from the gig. Why not Dubbo? Not amused ! So the load out was pretty quick . I jumped into Geoff Hillier's Transit van with from memory Dave Owens ( shovel), George and Sticks. I navigated till we were past Dubbo & crawled into the back for a kip. Shovel took over the co pilots' seat & I drifted off to sleep. We all awoke just after dawn to Shovel & Geoff cheering " What the fuck's going on!" " A corner!" says Geoff " First one in ages" So we have a grumble & drift off to sleep again.
The next thing I know there is a huge BANG! and the van seems to jump. We're wide awake in a split second and Geoff's pissing himself laughing " WHAT THE FUCK'S GOING ON !" We're all screaming at Geoff. It turns out Geoff was getting the shits dodging around the dead 'roos on the road and was wondering if he could just go over the small ones. (Yes folks Geoff was the drummer & a good one at that ) Shovel had drifted off so he was left to ruminate on this by himself. Then a somewhat smaller one loomed up and he thought he'd give it a go. Whether it was a small one is debatable but anyone who went near that van for the next couple of months will tell you it wasn't fresh. It must have been extremely bloated because it exploded into a putrid smelling soup covered in 'roo leather ( a sick aussie piniata ) all over the engine and underside of the van.
We pulled up to check for damage and in the still morning air the smell was even worse, at least when we were moving it was mostly blowing behind us. Shit, I thought it's not even hot yet what's it gonna smell like by midday!. No damage, so Sticko insists on driving and Geoff is banished to the back where there's no windows and no other chances for experimental long distance driving. But every time we stopped we were swarmed by even more flies than usual. In the Mad Gorilla slideshow there's a shot of Geoff getting out of the back of the van in a servo. His face is all screwed up and it's not just because he's just woken up and is stepping into the light. It's because the smell had caught up to us when we pulled up. When that van stopped we couldn't get out & away from it quick enough. Dogs were coming from everywhere to check it out. We hadn't even got to the gig yet!
[pb_vidembed title="" caption="" url="http://www.youtube.com/watch?v=xcQR-ceI1Uw" type="yt" w="640″ h="360″]
I also noticed in Rogers' slideshow a shot of the crew at Cobar. That has got a story too, as they all have. Have a close look and you'll notice a red tinge to the photo. It was at the CWA (or something similar) hall in Cobar for an all ages gig for the kids. Being a kids gig meant a revision of the set. Songs like Kinky nightmare ( about an erotic dream obviously ) & of course others like Cocaine had to be dropped from the set list. The stage patter was also a worry & those were the things everyone thought would be the problems. It was an easy load in, we had enough power, everything looked good. Everything was set up & we still had plenty of time, excellent!
The day is fine and still with a beautiful blue sky and I'm thinking about ducking out for a bit of a break now that everything looks all cool, maybe grab a hamburger somewhere in town once the soundcheck is done.
Zac fires up the PA and starts to put a rumble through the Bass speakers and all hell breaks loose. As the Bass starts to take over the all wooden building it starts to shake. Well it seems that the hall hasn't had a good shake up for a while and no one had told us (probably because they hadn't thought about it) that they'd had dust storms.
A fine red dust like talcum powder starts falling over everything! All over the PA, the backline, lights, FOH & us! Luckily no kids were there to hear what was said! We covered everything we could and had a quick meeting. OK we've got to do the gig, so cover everything up and crank the PA up until it stops raining dust. So that's why there's a red tinge to the shot. We all pitched in and cleaned up the gear after it stopped raining dust and the locals helped us to clean the rest of the place. The band went off and the kids loved it. No malfunctions, no scaring children, or leading anyone astray. We headed off back to Sydney & a good sleep.