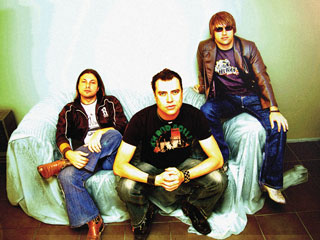 About
Sydney based band, Jonah's Road, has developed a significant following in the Australian music scene over the past few years. The contemporary sound is a feature gaining them many new fans and the respect of their peers thanks to fantastic live shows, tight vocal harmonies and great songwriting.
The highly anticipated new album, Counting Down The Days, was released in January 2007 and is expected to repeat the success of the band's multi-award winning first album Hold On. Jay, John & Rodney spent most of 2006 writing and recording the album. It was recorded and co-produced by Matt Fell at Love Hz studios and mixed by Robbie Specogna
at Main Street Studios. The result is a collection of upbeat songs and soaring ballads highlighting the harmony-driven, country-pop sound for which the band is becoming well known. The first radio single is the title track Counting Down The Days which is an upbeat song written by Jay & Jasper Somerville-Collie in collaboration with Travis List.
from Jonah's Road Bio
History
The debut album Hold On was released in September 2004 and received great feedback from fans, music industry personnel and the media. The release of the album led to several awards and host of nominations for the band:

Won the Best Country Album in the 2006 US based Independent Music Awards for their debut album Hold On.
Won Best Group in the 2006 TIARAs (Tamworth Independent Artists Recognition Awards).
Winners of the Best Independent Release at the Victorian & National Country Music Awards in Feb 2005, where they also had Top 5 finalist nominations for Best New Talent and Song of the Year.
At Tamworth in 2005 they were nominated for 2 Golden Guitar Awards for Best New Talent and Best Vocal Group/ Duo, a TIARA for Best Group/ Duo and a Top 10 Golden Guitar nomination for Best Album.
In addition to their success at Musicoz in 2003 (won Mark Holden Producer Prize), Jonah's Road was named in the Top 5 for the Country category in the 2004 Musicoz Awards and was named as finalists in the Pop category in the 2005 Musicoz Awards.
The writers of the first Jonah's Road single, Getting By Without You (Jay Collie, John Kater & Jasper Somerville-Collie) were also nominated in the Top 12 of the Country section of the International Songwriting Competition.
Jonah's Road was nominated as finalists in the 2005 Telstra Southern Stars Australian Independent Country Music Awards for Single of the Year and Album of the Year and were nominated in 2006 for Best Group.
Members
John Kater – Vocals/Bass
Jay Collie – Vocals/Guitar
Rodney Auld – Vocals/Guitar
Videos
Recordings
Hold On – 2004
Counting Down The Days – 2007
Other Resources