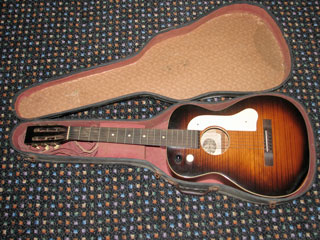 In 1992 I was asked to help a friend move his stuff out of a storage unit. While we were doing it I noticed a beaten up old guitar case. When I asked about it I was told "It's an old shitter, chuck it in the skip bin" He saw the look of surprise on my face and said " You like old crap you can have it if you want" I opened the case up and immediately stashed it in the car. To make sure I asked again "Are you sure you don't want it?" He didn't want it, it was mine. You beauty! When I asked about it later I found out it was in an old house in Como pde Como that was a deceased estate that was bulldozed when he moved out. I couldn't get home fast enough to check it out.
It is a ¾ size 6 string with a deep V neck and besides having a cracked bridge looked playable. Judging by the amount of wear on the fret board it has been played a lot. It has 2 knobs on the face above where the neck joins the body one black and one white (presumably volume & tone). There is a hole cut on the side of the guitar above the neck. Inside the guitar was a Bakelite light fitting that fitted the hole it was joined to the 2 knobs by electrical wire which ran back to a pickup attached to the bridge. The pickup is a horseshoe magnet with a wound coil in the mouth of the U and mounted below the bridge by 2 screws. In the case was a loop of electrical wire that has an electrical fitting on one end and 2 sprung clips on the other end. It looks like a torture instrument but it's probably the lead.
Inside the sound hole there is an ad glued down to the inside. There is a photo of a smiling man playing a Banjolin (Mandolin neck with a small banjo type body)
Across the top of the ad is written in beautiful old script: Amplified 24/8/46 by Fred WH Hallett
Below that the printed ad reads: Learn to play – Banjo, Mandolin, Guitar, Piano, Accordeon etc. (The spelling is as printed)
On either side of the photo running vertically it reads:
Left side- "The fun of music is in the making of it"
Right side- Fees- absurdly low call for full particulars
Below the photo – Fred WH Hallett – Principal
Then in bolder print- The Hallett music Academy
359 Marrickville rd Marrickville
Hours: Weekdays 2 till 7 (or by appointment)
Musicians supplied for all functions
The owner must have been a professional musician. Nobody else would have needed this conversion done in '46.
I took the guitar to Gerard Gillet a luthier at Botany to have the bridge fixed and hopefully get some answers. As he opened the case he said "Ah, it's a Stella, mid 20's probably" He went on to say that they were a cheapie at the time bought normally by mail order. But the pickup conversion was very interesting; it should be in the Powerhouse museum. He put a new bridge on it and it plays well but due to the depth of the neck is hard work compared to the guitars of today for standard play. So I had some answers but more questions. Unfortunately researching the old girl has been put off till recently due to other commitments but now I have the time I'm trying to piece together its history. I have some answers but many more questions. Hopefully some one can help. I know from my parents & others that the post WW2 era in Sydney was buzzing musically. More than once I've heard that you could go to a dance on any night of the week. With what I've found I am hoping to jog someone's' memory & the true story of this instrument and the people involved can be pieced together.
Here's what I've found so far: The guitar was in a house in the northern end of Como parade Como NSW in the late 80's- early 90's owned by a man possibly named Marsh.
He was friends with the Freeland family that lived in Central rd Como. John Freeland was a music teacher & played in the SSO as well as other professional music work.
His son Paul Freeland was the original drummer in Moving Pictures.
The conversion was done in Marrickville in august 1946 by Fred Hallett. The only references to Fred Hallett so far are a couple of newspaper ads from the 30's for events with "The Hallett string ensemble" playing.
Noted guitarist Charles Lees was using a magnetic pickup in the 30's made by Ned Bevan in Sydney. In his august 1936 article in Australian music maker & dance band news Charlie said that Ned was working on an idea that would revolutionise guitar tone. This guitar seemingly has a tone control but the maker of the pickup system is unknown.
I would very much like to talk to anyone who can help fill in the gaps. But a few people in particular I would like to talk to:
Paul Freeland- apparently the owner was a family friend living very close by.
George Golla- quite a few people have told me he is still with us & is a great oral historian of this era. He also played with most of the pro musos' of the time.
Anyone with information about Fred Hallett or Ned Bevan.
Photos or information on guitar amplifiers & their makers in Sydney in the 30's & 40's
I would also like everyone to know that this guitar is not for sale. The research I am doing is to piece together what I feel is a great piece of Australian music history and to highlight a great example of Aussie ingenuity.
Apologies to Recko for not posting this quicker, cheers Gibbo 🙂