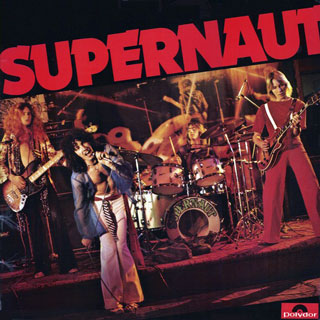 Supernaut hit the scene in a big way with their first ever single "I Like It Both Ways" becoming an almost instant hit. Originally formed in Perth around 1974, they took the step of moving to Melbourne early in their career to seek their fortune. Coming to the attention of Molly Meldrum certainly helped and he produced their first album & made sure they were featured on Countdown.
They created quite a bit of talk with their sexually ambiguous lyrics & glam look but that was short lived and even seemed to work against them in the end. Supernaut eventually relocated again, this time to Sydney, and tried to re-invent themselves in a Punk/New Wave style, changing their name to "The Nauts".
The band recorded one album under that name in 1978 but despite critical acclaim it didn't sell well & they disbanded in 1980.
Members
Gary Twinn – Vocals
Chris Burnham – Guitar
Joe Burnham – Drums
Philip Foxman – Bass 1976-
Randall Murphy – Bass 1974-1976
Noel Kennedy – Keys – 1978-
Recordings
Singles
I Like It Both Ways – 1976
Too Hot To Touch – 1976
Young & Innocent – 1977
Kids Are Out Tonight – 1977
Let's Spend The Night Together – 1977
Unemployed – 1978
Spies – 1978
Albums
Supernaut – 1976
I Like It Both Ways – 1995
Images
Videos
More Resources