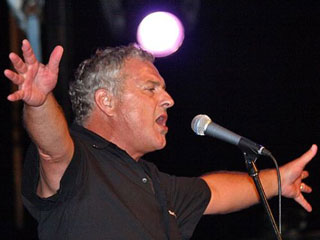 There is a great line over at Ross Wilson's home page that says he "is probably the only person in Australian rock music who can't make a comeback simply because he's never been away" and that's true. It isn't really a surprise though, as he is one of the finest musicians/ songwriters/ producers/ performers that this country has ever produced.
Born in Melbourne on November 18th, 1947, Ross was exposed to music from a very early age as both his parents were amateur musicians. He was singing quite early in life as well through his involvement with the local Anglican Church Choir. His relationship with Ross Hannaford started at the age of thirteen with their band The Pink Finks. Even though they were still high school students they managed to release four singles including a cover of Louie Louie.
In 1969 Ross traveled to England where he married his girlfriend Patricia and wrote the future hit "Eagle Rock". Upon returning to Australia, he once again teamed up with Ross Hannaford to form Sons Of The Vegetal Mother which eventually became Daddy Cool.
It was after the initial breakup of Daddy Cool that Ross became involved in an up and coming Melbourne band by the name of Skyhooks. He was instrumental in getting Michael Gudinski's Mushroom Records to sign and record them. Wilson produced their first three albums "Living In The Seventies" (1974), "Ego Is Not A Dirty Word" (1975) and "Straight In A Gay Gay World" (1976).
Next up came Mondo Rock which was a serious attempt at cracking markets outside Australia. While it never quite achieved the international success it really deserved, Mondo Rock was a quality act all the way and signaled a real maturing of Ross Wilson's talents. Mondo Rock initially split around 1989 & Ross went solo for a few years starting with "Dark Side Of The Man" in 1989. This album contained the hit single "Bed of Nails" which went to 25 on the singles charts.
Ross Wilson was twice inducted into the Australian Recording Industry Association (ARIA) Hall of Fame. First up in 1989 and again in 2006 as a member of Daddy Cool.
Solo Discography
Dark Side of the Man -1989
Go Bongo Go Wild! – 2001
Country and Wilson – 2003
Tributary – 2008
Videos of Ross Wilson